Audio Visual Equipment
When you are managing the various audio visual equipment elements of your conference, or business meeting, consistency is critical. How your event, and ultimately your message, is presented to your audience impacts the success of your event. Is the video clear and easy to see? Or was it blurry, too dark, or too small to see? Was the audio hard to hear? Was it too loud? All of the audio visual elements impact your audience's perception of you, your message, and your brand.
Video Systems
The first element to plan around is your video content. The video aspect of your planning has two parts… the video you want to display on screens, and the video you may wish to record.
Visual Display
Your room size will dictate everything about your visual display size. If you're in small board room, and your participants are within 20 feet of your video screen, then you're probably going to be fine with a large HDTV display (probably 70″ HDTV) or a small projector screen (6 feet wide is typical). The brighter and clearest possible video image will be off of Television Displays. Because they are typically quite bright and they are always in focus. But for affordable screen size, projectors with screens are hard to beat.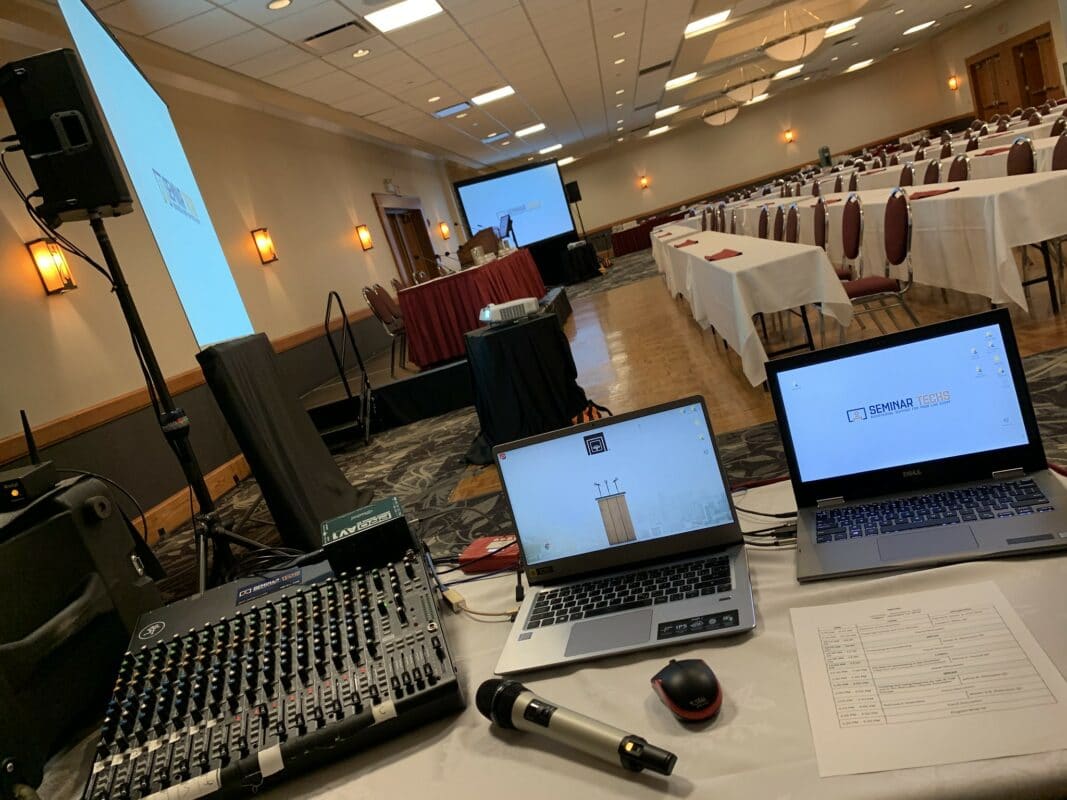 But if your audience will be farther back than 20 feet, like in a room that seats 30 people or more, then you're going to expect to display your video content on something much larger. And the larger the room the larger the display.
Calculating how large your screen needs to be is easier than you might think. Just take the distance of the furthest viewer and divide that number 6. Are they 100 feet away? Then your screen should at least be 16 feet diagonal, which is converts to a big 14 foot wide screen. But if your room is wide enough you can get away with two smaller screens.
Once mistake I've seen with customers looking for audio visual support is that they are often misquoted by the larger AV Companies for huge screens and 8K resolution projectors for absolutely no reason except their own greed. When in doubt about an event you've been quoted on, please reach out to us for a comparable quote, to help keep your AV Vendors honest!
Video Recording
If you're going to spend the money and effort to organize a conference with special speakers and talent, then you should also consider video recording the entire thing at a small additional cost. Many times my clients will then go on to resell those recordings to people who couldn't attend their live event.
Most likely you will not have much decision making to manage around what equipment is required to record your live event. Often these are just simple packages that come with a camera man, all the cameras he's going to need, with an expectation that later an editor will also have all of the equipment he would ever need to compile, and edit the whole thing down for you.
Sitting down with us during your early planning stages will safe your event headaches on the day of the events, so plan early. Email us if you need a quote.
Video Streaming
Once in a while you may event be adventurous enough to try Live Streaming your live event! This is fantastic and great for people who can't be there live! But it requires additional expensive streaming equipment and skilled technicians to manage. This will also likely be a package that includes all necessary equipment, but will increase your costs. All of this should be clearly outlined from your Audio Video Vendor. Contact us directly if you need advice or guidance!
Sound Systems
Again, choosing your audio source and speakers, depends on your room size and the audience size! Board rooms are so small that hearing your presenter, and possibly your video playback will require very little audio amplification. For bigger gatherings you're going to need to consider microphones, speakers, cables, an EQ, and an amplifier. It can seem overwhelming so please reach out to your AV Vendor to help guide your decision making.
When you meet with us we will help you decide on what type of microphones you need, and how loud we need to make your presenters. Typically we setup a podium with a podium microphone, and any table top mics that your on-stage talent may need. We also offer high-end handheld microphones, and fancy headsets for a more hands free experience.
Your on-stage talent will normally suggest what THEY need to feel comfortable, and we can meet any need they can come up with.
Lighting
In most small rooms lighting takes care of it's self. Where more complicated lighting needs show up is during much larger events, in rooms that either require extra sparkle, added wall logos, displays, or even just extra spot light on the stage for the video camera. Often this type of support will come from a partner company of ours that specializes in lighting.
Your Conference Planning Checklist for Audio Visual Setups
When arranging a huge meeting within areas like Hotels, Inns, Conference Centres, or even just Live Event hallways, there is a great deal to juggle. Here's a quick list to help you:
Does the site have a particular provider contract? Provided that this is true, do they permit outside sellers?
Is there an in-house electrical provider accessible?
Is there an available dock and lift for moving substantial gear?
Does your event location rent their own equipment to you? Do they offer to also setup and run that gear? Most do not.
How soundproof are the dividers/parcels?
On the off chance that you are setting up a projection screen, are there any spots where light sources could cause issues?
What components of the room can/can't be hindered by stands, stages, seating, and so forth? Make note of the emergency exists for example.
Are there house lights, and provided that this is true, where are the controls?
Do you have access to the room temperature?
I would recommend you never use the in-house built in speakers for your event, they will ALWAYS sound terrible. When doubt rent some speakers and set them up far from the stage microphones.
Is room WIFI you can share with your audience?
I realize this is a a very brief outlines, so please connect with us anytime for further free guidance or advice!
~ Robert